If you're one of the many Australians currently thinking about installing a pool, the idea of an above ground pool might bring to mind images of the unattractive 1980s-style monstrosity you grew up with, complete with a faded blue liner and splintering plastic pool stairs. But that's an outdated way of thinking about them, and not a good indication of what's available on the market: above ground pools are much more attractive these days, and they're still often easier to install and cheaper to run than inground pools. If you're seriously considering pool installation and looking for new pool designs for your home, here are some reasons an above ground pool could be the option for you.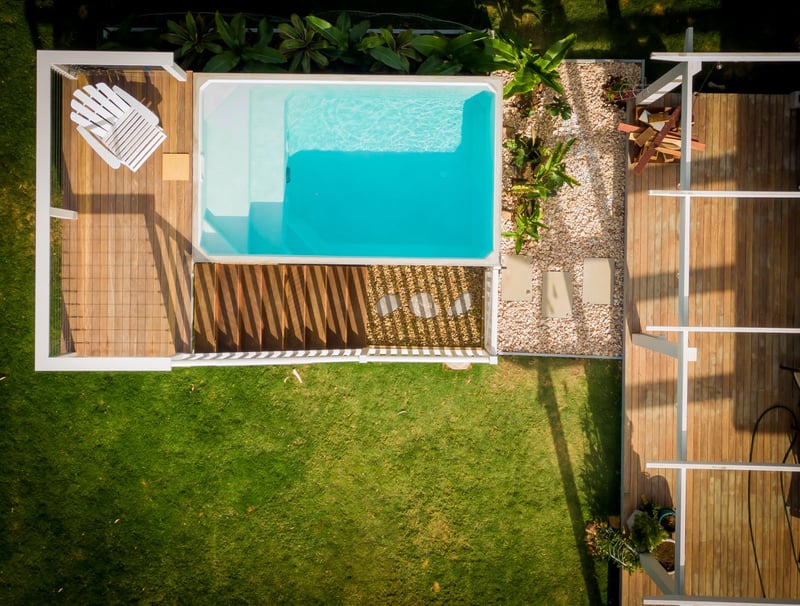 They're easier and cheaper to install
It's pretty common knowledge that above ground pools are more affordable and less work to install than inground pools. Above ground pools only need a bit of level ground—if your yard doesn't have that, you'll need a little bit of extra construction, but typically far less than the excavation that inground pool installation needs.
The preparation costs of inground pools are generally much higher because of the earthworks, and the fact that they're normally built from scratch by traditional pool builders. Above ground pools are usually pre-prepared in kit form and need a lot less labour, meaning you won't have a hole for a backyard for months on end while you're waiting for your pool builders to finish.
If you're thinking about a DIY swimming pool to save on costs, there are many different design and functionality options available. But be careful: it takes more than just a pool kit—you'll need to contact your local council for construction permissions, and when you're done you'll need to get a pool safety certificate and meet the pool fence regulations. A better option might be to hire a professional builder or pool installer to make sure you get the job done properly and don't run into problems.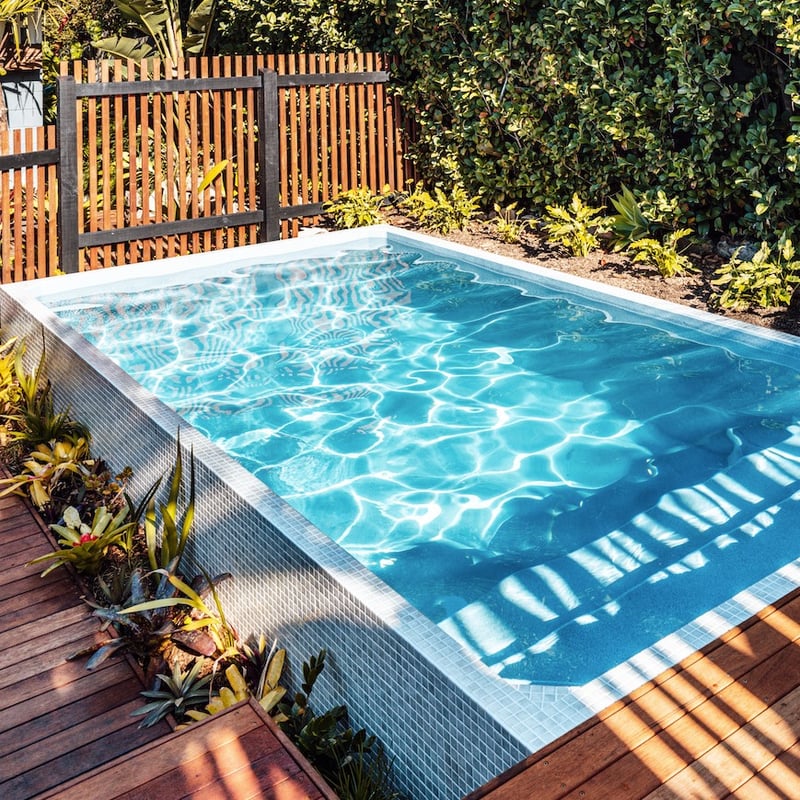 They last longer than they used to
The life expectancy of traditional above ground pools was pretty low—mostly because the most common material used was vinyl, which needs to be replaced eventually. You can still buy regular vinyl liners, but you can also buy above ground pools made from other materials, like fibreglass or concrete. Above ground pools aren't a temporary pool solution anymore: they're basically a design or style option you can choose, and they last just as long as an in-ground pool.
Concrete will pretty much last a lifetime, and pool designers and manufacturers are getting a lot more creative with it these days. Concrete can be used to create pools in a much broader range of shapes and sizes than you might know about, making it possible to overcome all sorts of structural and space limitations that your property might have, but without having to use materials you'll eventually have to replace.
They're good for small spaces
One of the reasons you might be thinking about an above ground pool is because you're limited by space and only have room for a small pool. In-ground builds aren't usually the best option for small pools, because of the construction involved, and because there's a much broader range of better options now—including the humble plunge pool.
Plunge pools are becoming more popular in Australia every day as a way to save money and space, and with the right pool design you'll be able to fit one even in the narrowest backyard. This means you can get the above ground pool you want, at the much lower plunge pool cost. An above ground plunge pool looks just as good as an in-ground one—the right manufacturer designs them to be features in and of themselves, not just as a band-aid solution for properties without the space or budget for an in-ground one. You might even find good space-saving options in choosing an above ground pool that functions as a swim spa, or as a pool and spa combination, virtually giving you two luxury products in the one small space.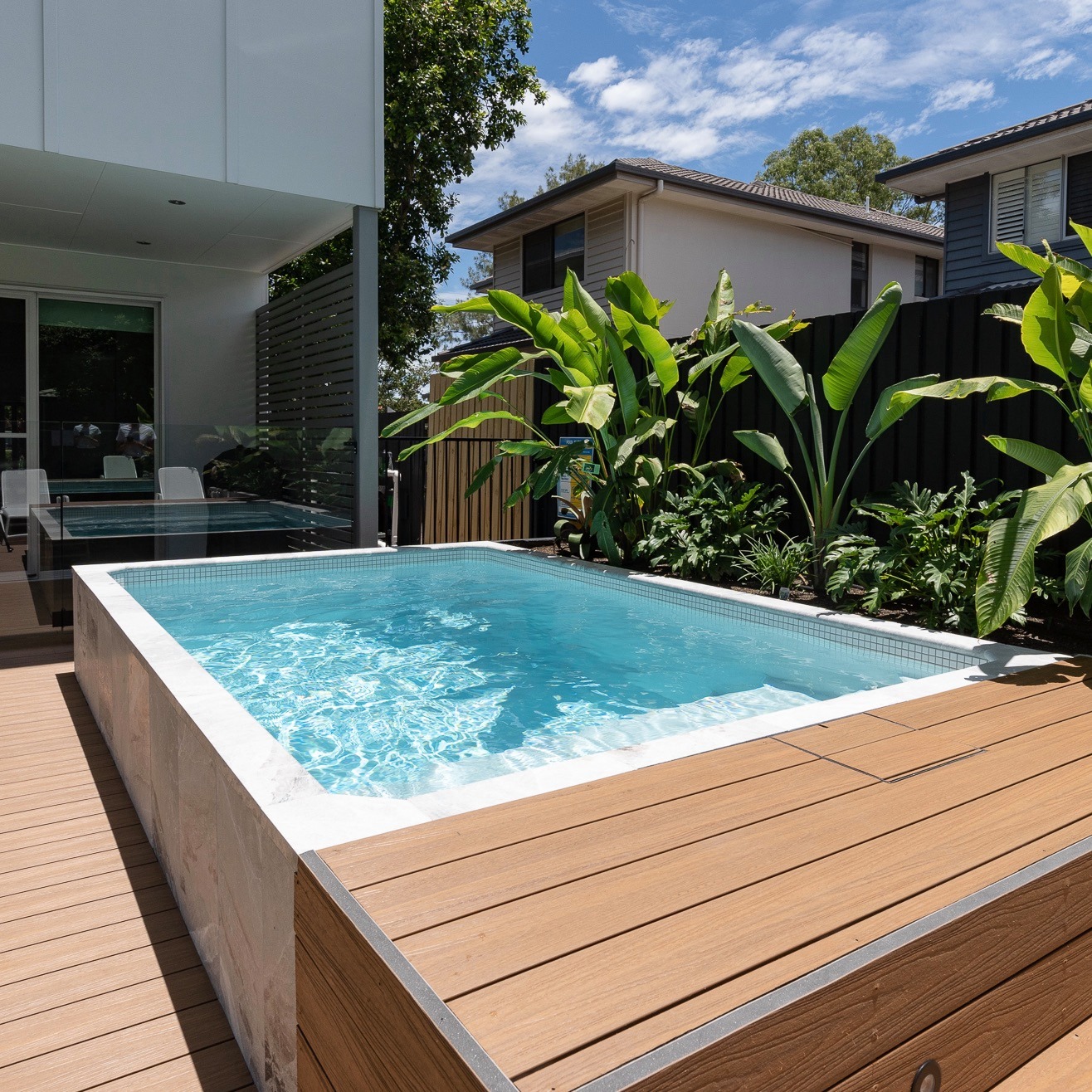 They look better than you think
Most people think that the only options they have for above ground pools are disguising them, trying to make them look more like an in-ground pool. Historically, the only way to make an above ground pool look better was to build a deck around it or add cladding to the sides to conceal the unsightly siding. But above ground pools are more dynamically designed these days, and available in a range of materials to suit different styles of yards and homes. You can still buy above ground pools with vinyl liners, but there are many other options now—including concrete pools, which are designed well enough to either blend into an existing design or even serve as a hard landscaping feature in themselves.
You can finish concrete pools in all kinds of materials, including timber, stone, paving, and tiles—which means it's not as difficult as you think to turn a basic above ground pool into a hard landscaping artwork.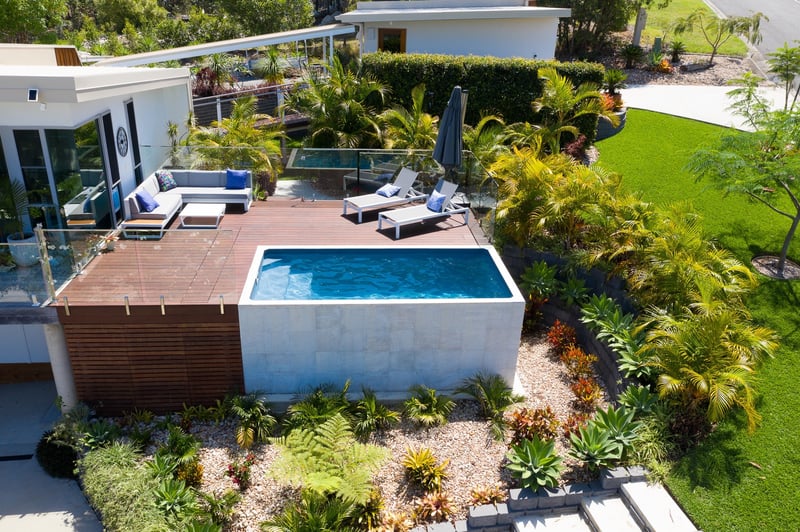 Plungie make the best above ground pools
Plungie pools are a perfect option for both in-ground and above ground pools. Our concrete pools are designed to fit perfectly into any size and style of yard, and they're engineered and manufactured to exact specifications so your pool installation will comply with all the relevant Master Builders and Australian standards.
All Plungie swimming pools come with ecoFinish, our signature interior coating that feels as luxurious as it looks, and is available in a range of colours that'll suit just about any taste. But if you've got specific ideas about how you want to finish your above ground pool, we can supply the unfinished shell, so you can design, tile, and style it any way you like, and turn it into your own backyard work of art. Contact our friendly Plungie staff anytime for more information.