One of the biggest challenges in traditional pool installation is all the extra work you need to do to compensate for uneven and sloping blocks. Many people abandon the idea of getting a pool because they can't afford the extra costs like installing or redesigning retaining walls—and with traditional pool building, it's easy to see how they do add up, even for master builders.
But there's a better option. Installing a pool on a challenging site doesn't need to be a headache: with a Plungie pool, you can get double the result for half the work.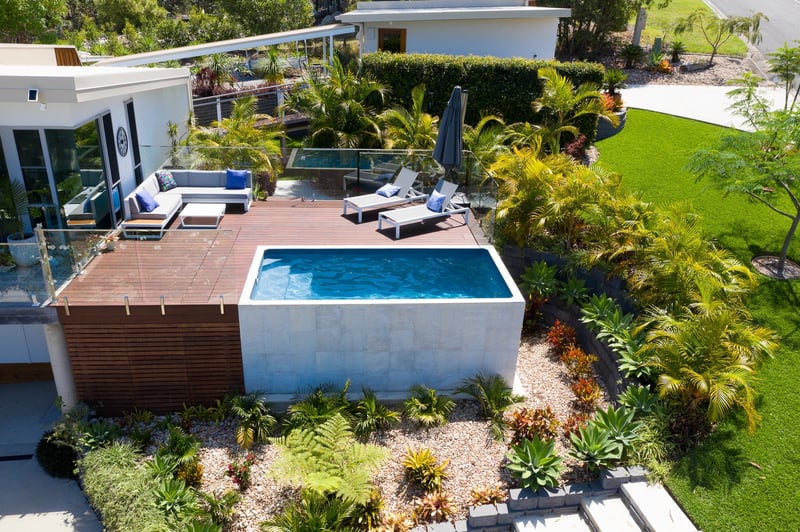 Reclaiming unusable land
The average size of a block of land is getting smaller all the time — which means it's important to get creative to maximise the space you have. Backyards are tending a lot towards narrow these days— which is due in part to the increase in subdivisions that usually involve knockdowns and rebuilds with narrow, double-story homes — and this often results in pockets of space that are usually written off because they look too small.
But you can reclaim those spaces of land: they're not always unusable, and they might be the perfect spot for a Plungie. The pool industry is booming right now, because more and more people are looking for entertainment solutions for small backyards, and they've discovered that it's possible with the right swim spa or plunge pool design.
This is especially true if the block is sloped or uneven. Plungies can be installed pretty much anywhere at a fraction of the cost of traditional pool builds, because they don't need anywhere the amount of work. If you're already planning on an intelligent split-level design for a new build, Plungie is the perfection inclusion for that, too — they're dynamic enough to be installed at pretty much any level from fully recessed to rooftop, and designed to suit any style from suburban family homes to high-end architectural builds.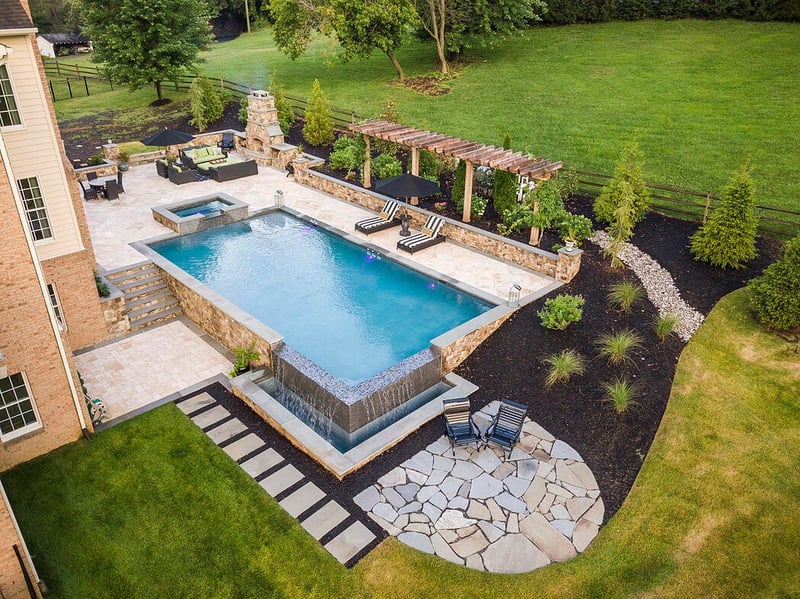 Concrete: strong enough to withstand the pressure
Traditional pool builds can't usually accommodate the unusual installation methods people with sloping blocks are looking for. Fibreglass pools can only sit about half a metre out of the ground, because they're not strong enough to handle the pressure—which means that you need to excavate and restructure the entire site to create enough depth for the pool to be installed in, even if they're designed to be semi-recessed.
This isn't an issue for Plungie. Plungies are made from high-grade concrete that can easily withstand the pressure of a semi-recessed, above-ground or fully recessed installation, and no matter how you use them on the block, they're made to last so you'll comply with all the regulations you need to to get your pool safety certificate. Plungies can be installed even on the steepest gradients, meaning you can install them with minimal excavation.
Making design easy
In the traditional pool-building process, you have limited options in terms of the types of retaining wall you can build and the materials you can use to build it. Poured concrete masonry walls will eat into the budget because they're expensive, and you're limited in style choices as well. Segmental retaining wall blocks are a bit more versatile and can accommodate more pool shapes, but they're still a separate construction with their own expense and design challenges.
If you're looking for retaining wall ideas, Plungie pools can solve that problem: they can be used as retaining walls in themselves. They look great, and are versatile enough to blend well with just about any hard landscaping. They're strong, made to exceed Master Builders Association and Australian standards, and they serve just as well as any purpose-built retaining walls. Plungies literally give you double the result for half the work. Contact our friendly staff anytime for more information about how you can reclaim unusable land with a Plungie.