Building a new house can be a lot of things — exciting, stressful and exhausting just to name a few. When navigating the biggest investment of your lifetime, installing a pool may sit in the 'too hard' basket but the timing couldn't be more perfect. So, what are the benefits of building your house and pool at the same time, and how do you decide which pool type is right for your block? We love making your life easier, so here's a guide that will answer all these questions and more.
Should you Build a Pool at the Same Time as a House?
The short answer is, yes! Building your house and pool at the same time makes serious logistical sense. For starters, the site can be easily accessed by essential machinery like excavators and you won't need to lift the pool over your house. This removes any risk of damage to an existing home and makes the installation process quicker and easier (cheaper, too).
On top of this, you only have to deal with the construction process once. As much as we love tradies, it's nice to move into your home and know that your space won't be turned into a construction site for the foreseeable future.
From a design perspective, building your house and pool at the same time allows you to plan your backyard around your pool, rather than the other way around. This gives you more flexibility in terms of the pool shapes and the position on your block.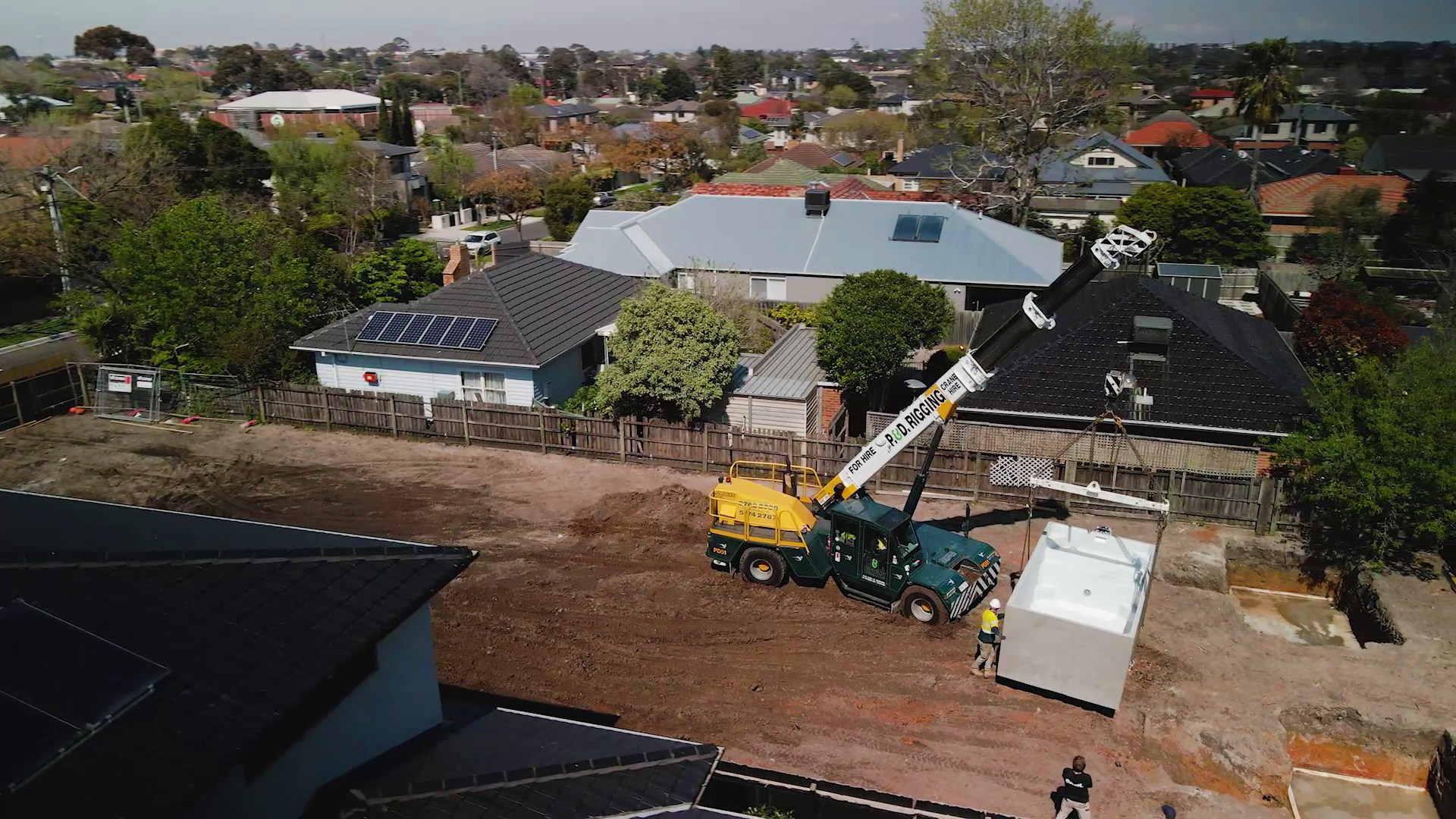 Pool Types
When you're working with a blank slate, it can be tricky to decide which pool type will be right for your block. Each type has its pros and cons, so let's weigh them up.
Plunge Pools
We're obviously a little biased when it comes to plunge pools, but they're an awesome choice for new builds for a number of reasons. They're available in a variety of shapes and sizes, so are a great solution if you've opted for a larger home on a smaller block.
Even if you have a large block, a plunge pool won't take up a lot of space in your backyard so you can create multiple outdoor living zones. They're also great for relaxation, which we all need a little more of.
Round Pools
Round pools can create a unique, natural look in your backyard, especially when installed in-ground. Many homeowners have achieved beautiful results by pairing their pools with curved hedges and topiary.
Larger than a plunge pool, but not built for laps, they're great for leisurely swimming or playing. If you can't decide between a plunge pool and a round pool, the 3.5m round Plungie Arena gives you the best of both worlds.
Lap Pools
As the name suggests, lap pools are designed for exercise. Long, slim and rectangular in shape, they can fit well alongside a house on a spacious block. If you're looking to stay active in the comfort of your own home, this could be a great option for you.
Free-Form Pools
With their flowing lines and curves, free-form pools don't fit into any particular shape category. They can look like they were custom-built for your backyard, especially when the landscaping is planned around their whimsical shape. As such, installing a free-form pool while your backyard is still a blank slate is ideal.
These pools can work well in tropical or Balinese-inspired gardens but are falling out of fashion as homeowners look to maximise space. The non-linear shape of the pool is impractical as it can create more unusable space around the outdoor area.
Pool Planning Considerations
When Benjamin Franklin said "If you fail to plan, you are planning to fail" we're pretty sure he was referring to pool installation. There are several factors you should consider when planning your pool build to ensure you're happy with the end result.
Where Should my Pool go?
One of the first considerations is sun exposure. If you want to make the most of the sunshine, it's best to install your pool in either the Northern or Western part of your backyard so you can catch those rays. Secondly, you should be conscious of sight lines. Take the time to consider how the pool will look from inside your home and whether you will have privacy from your neighbours.
Don't forget that your pool will also require plumbing and wiring. We recommend chatting with your home builder early on to see how this could influence the pool's placement on your block. Finally, you'll need to adhere to local council guidelines around how far the pool can be from your house, property boundary and other structures.
Swimming Pool Designs and Plans
Once the pool is installed, you can add finishing touches to ensure it ties in with your home. This could be as simple as adding coping tiles that match the colour or material of your outdoor area tile.
An example we love is the Pacific project by Futureflip, where a second 'fake' fence was built to house the equipment for the Plungie Max. By matching the second fence to the existing fence, the finished look was seamless.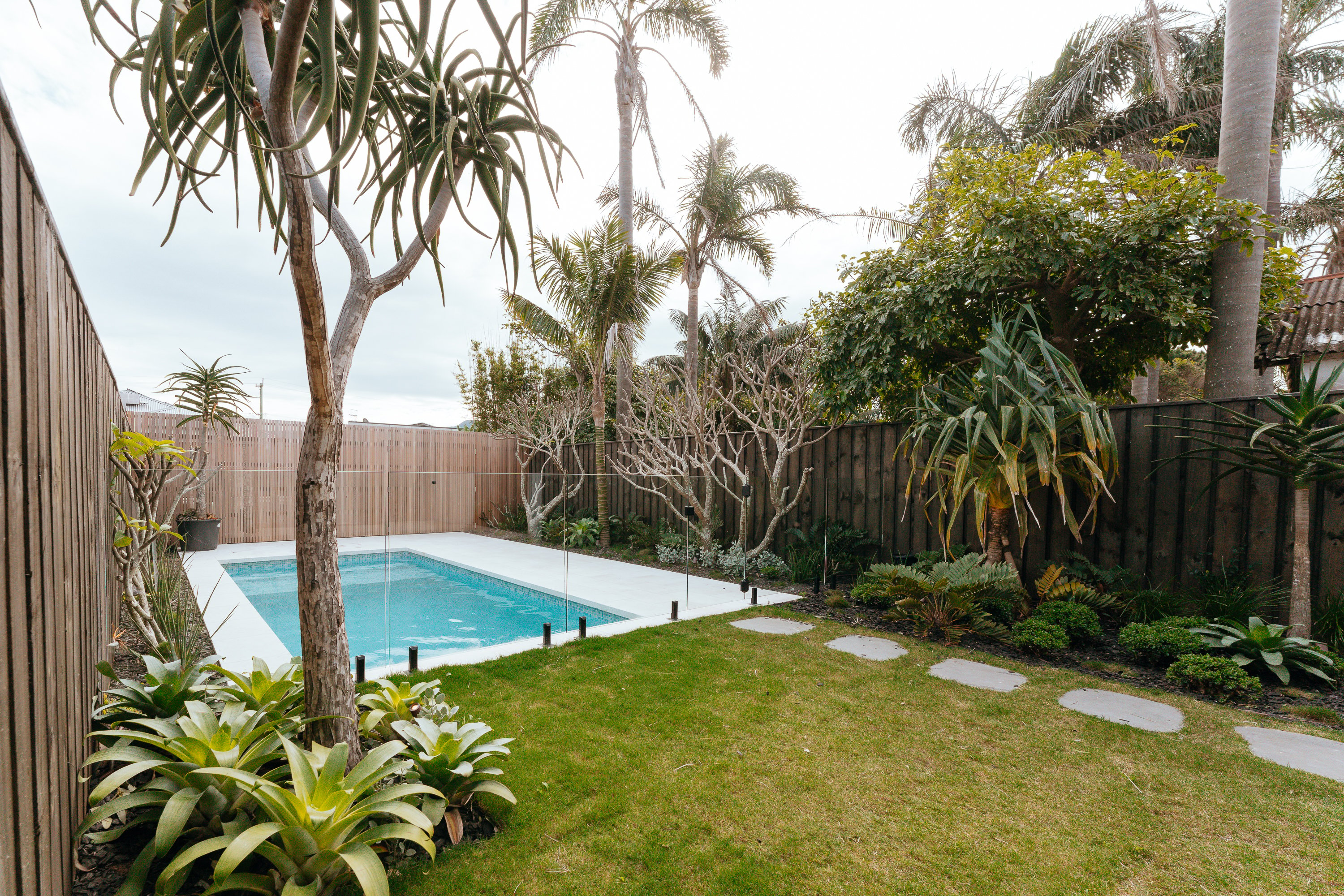 Get Your Plungie Delivered with a Construction Cover
Our range of pools can be pre-fitted with a construction cover and delivered directly to your site. The construction cover will protect the internal finish of your pool while creating a safe working environment for the trades required to build your dream home.
No one wants a 6 x 3m fall hazard on their worksite. The construction cover mitigates this risk and removes the need for renting temporary fencing on the worksite.
Home and Pool Packages
Home and pool packages can make the construction process easier for homeowners and builders alike. Not only can they make pool installation more affordable, but there's less room for error with one builder overseeing the entire project.
We've partnered with reputable builders to create beautiful turnkey homes across the country. If you're interested in installing a Plungie with your new build, our team are more than happy to chat with your builder to get the ball rolling. Simply contact us today or download a quote and info pack for more details.