Brisbane-based startup Plungie continues to make waves globally, winning the Emerging Exporter Award at the 2022 Premier of Queensland's Export Awards, announced at a gala ceremony on Wednesday 5 October.
Plungie's pioneering precast concrete plunge pools – available in four designs – are the first of their kind in the world and combine award-winning design with world-class technology.
Plungie CEO Cameron Levick said the win acknowledged the huge impact Plungie had on the swimming pool industry since its launch in 2018.
Plungie is the largest manufacturer of concrete pools in Australia and with manufacturing facilities in Texas, USA, a fast-growing New Zealand market and plans to expand into Canada and Europe in 2023, is on track to become the largest concrete pool manufacturer in the world.
"We were thrilled to be nominated but to take out the category is such an acknowledgement of the team's mission to bring the Australian dream to the world – to have a pool in your backyard," Mr Levick said.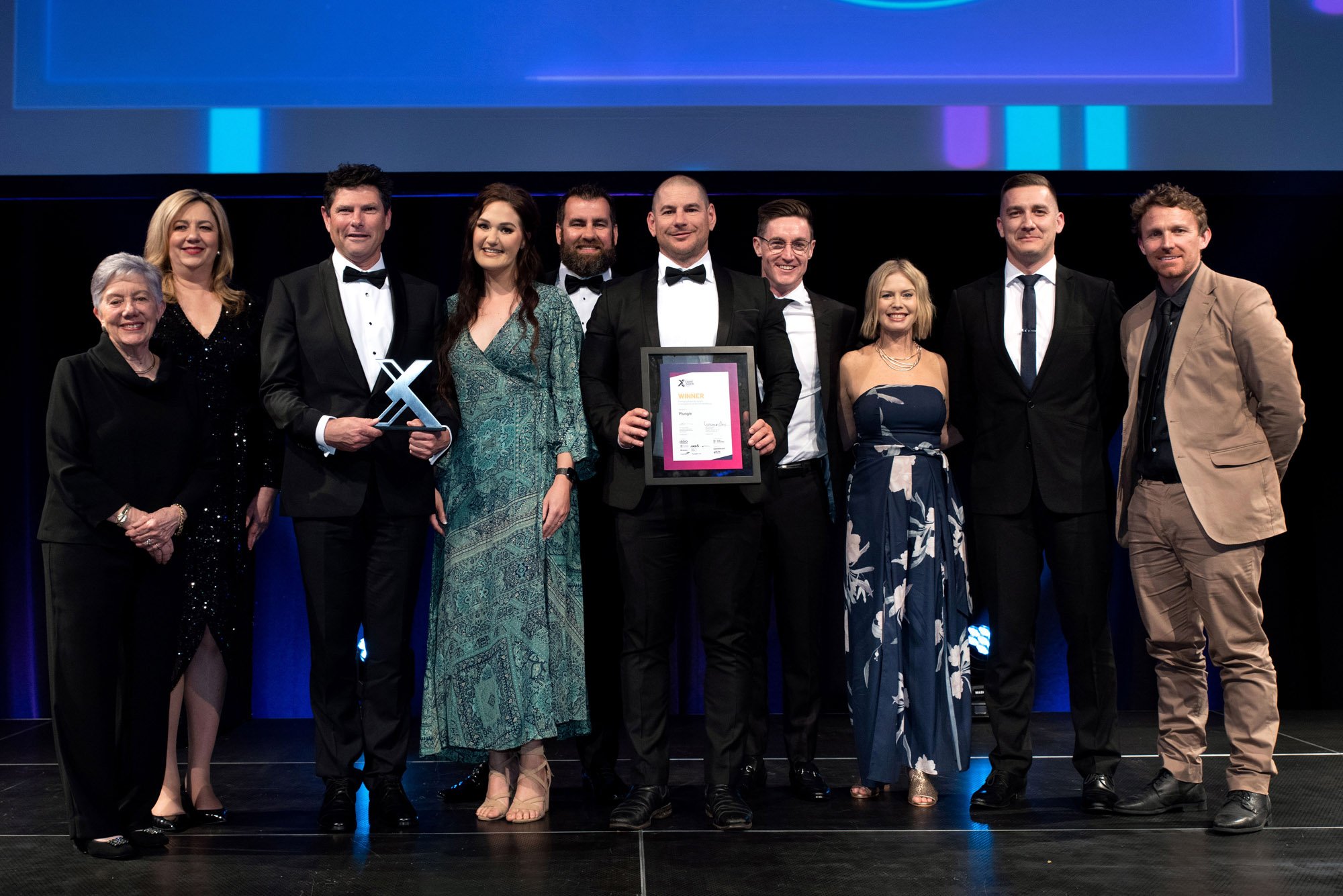 Plungie is a member of the Venlo Group of Companies and was established to revolutionise the swimming pool industry and make pool ownership possible for more families.
Venlo Managing Director Ty Hermans said it was an honour to be recognised alongside an exceptional field of finalists including Mining Skills Australia, Oper8 Global and Tirtyl.
"Each of our Venlo companies is founded on the same principle, that by blending great design with world class advanced manufacturing we can make more things here in Australia competitively with offshore, and create more Australian jobs," Mr Hermans said.

"Plungie is the perfect example of exporting Australian innovation and know-how to the world and how to successfully onshore manufacturing to Australia and the huge impact this makes to the local economy. Not only have we created 78 new jobs in Australia in just 4 short years, the clustering effect has supported indirect new jobs in associated trades, crane drivers and suppliers that would number in the thousands."
Plungie has created 78 new jobs in Australia in the past four years and has also supported the creation of thousands of new jobs in associated trades and among crane drivers and suppliers.
Plungie will join the other Premier of Queensland's Export Awards winners at the national Australian Export Awards on Thursday 24 November in Canberra, staged by Austrade.
Established in Brisbane in 2018, Plungie operates factories in Brisbane and Kilmore, Victoria and exports Australian-made pools directly to New Zealand.
In 2020, Plungie expanded to the USA to produce for the local market.
Plungie's scalable business model positions it to export Intellectual Property (IP), engineering, advanced manufacturing methods, sales strategy and marketing knowledge.
This evolved approach allowed Plungie to establish company-managed manufacturing operations internationally, mid-pandemic.
"What is remarkable about the Plungie export story is that while many companies were consolidating during COVID, we were achieving the impossible – setting up manufacturing operations in the USA remotely via video conferencing and with the help of an amazing team and an incredible network," Mr Hermans said.
Plungie worked closely with Trade and Investment Queensland (TIQ) during the pandemic to gain greater insight into export and investment opportunities and seize opportunities to diversify its supply chain and create strong industry partnerships in Australia and the US.
"Winning the Emerging Exporter Award at the Premier of Queensland's Export Awards is wonderful recognition of the economic contribution we're making to the state by basing our operations here and exporting our IP and product to the world," Mr Levick added.
Plungie plans to launch more formally in New Zealand, followed by Europe and Canada in 2023.
Plungie's range of pools is delivered pre-engineered, finished with a high-performance interior coating and pre-plumbed with primary filtration provisions so customers can enjoy their pool in days, not months.