Developing a property is no small feat in and of itself. Juggling the pressures of time and money are huge challenges that any developer faces. But throw in added commitments of parenthood, pregnancy and another part-time role, and it is an enormous undertaking.
We were lucky enough to catch up with Taeler from For the Love of Design; an architect at Chamberlain Architects and member of the BuildHer Collective, who managed to overcome all these challenges and achieve her vision.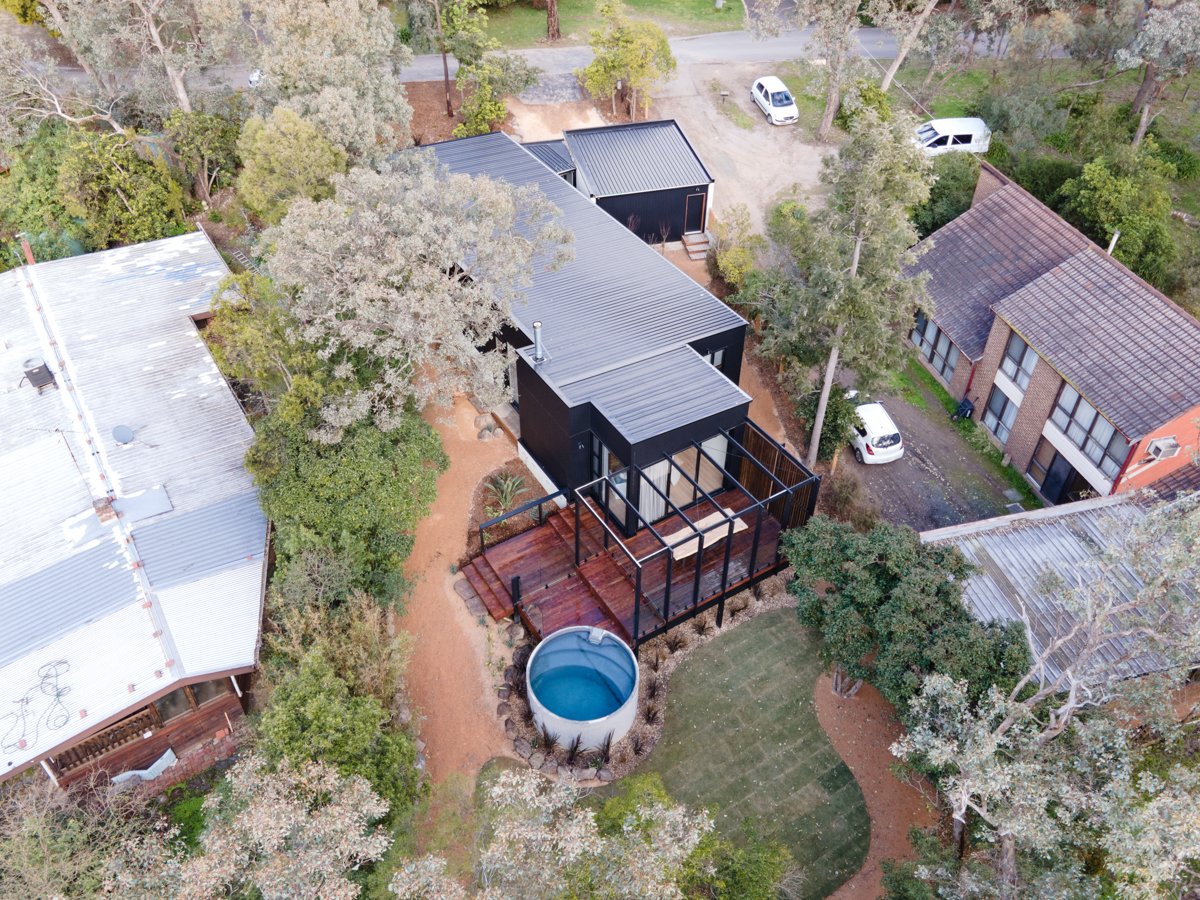 In the leafy outer-Melbourne suburb of Research, Taeler converted what was once a '70s original veneer brick home, covered in overgrown forest, into a bold, modern family home. Boasting 4 bedrooms, 2 bathrooms, and a stunning above-ground Plungie Arena, this black monolithic structure serves as both an architectural masterpiece and a functional family home.
"Being in Research, we really wanted to create something that sat beautifully, especially into the streetscape and surrounding landscape," explained Taeler.
Indeed, the balance between the house and the surrounding environment — the relationship between outside and inside — permeates throughout the entire property; starkly different yet in perfect unison.
"It was really important for us to create this singular architectural, black monolithic form that really bleeds in and blends itself into the natural surrounding landscape," continued Taeler, "the house has 3m high beautiful windows that also create picture frames internally … to create that indoor/outdoor threshold and that vibe for really bringing the outside in."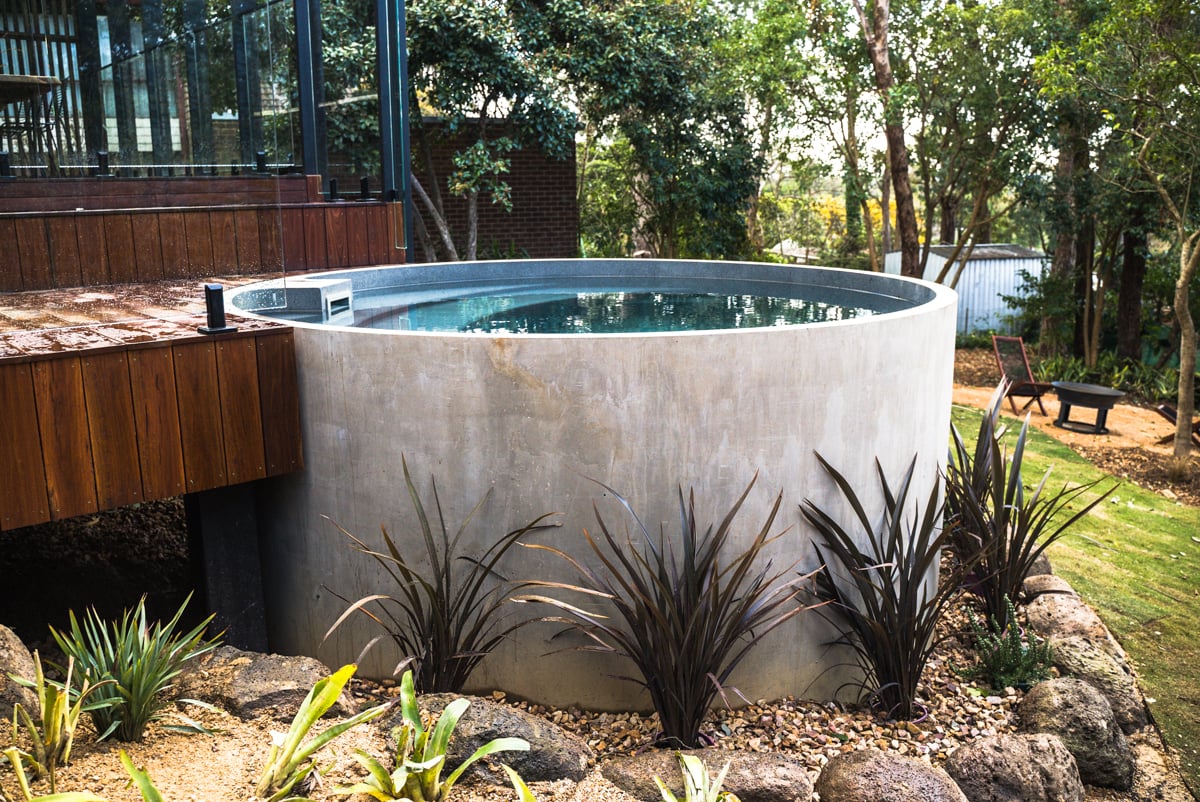 As you make your way through the house and step into the backyard, your eyes are immediately drawn to the above-ground Plungie Arena, sitting triumphantly just off the back deck.
"The Plungie pool is almost a feature and a hero of this outside element and really lends itself to the natural surrounding landscape that we have here," explained Taeler.
Interestingly, Taeler opted to leave the Plungie Arena as-is, retaining the raw concrete exterior of the pool; quite uncommon for the number of pools we sell.
But — don't think this property is simply an architect's vision; all form and no function. As a development property, with resale value a key factor, Taeler made every decision with the end-user in mind.
"Creating or providing the customer with a pool, especially a pool that's really low maintenance for families, I think is really important," she explained, "we tick that box and provide a really beautiful architecture element [that] also stacks up feasibility wise … it creates a real sanctuary really finished off the house."
Feasibility really was the key element in her decision to opt with Plungie.
In her career as an architect, Taeler has had plenty of experience in the process of providing her clients with custom concrete pools. However, this being a development of her own, using her own money, Taeler was initially concerned a concrete pool was financially impossible.
"I wanted to hit that price point of a certain quality and calibre of build, of having a concrete pool, but it just wasn't feasible to do a custom concrete pool. That's when I came across Plungie."
Taeler continued, "It just made so much sense feasibility wise and in construction — how quickly we could get it installed and running — so it was a no-brainer for us and this development."
While Morelle House stands as a stunning balance between architectural form and family-home functionality, perhaps the greatest achievement is Taeler completing this project while pregnant, raising another small child and juggling her work commitments.
"So we actually finished the house the day before I had the baby … Having a two-year-old and now a newborn has definitely had its challenges, but with the family support [and] having people around me like the BuildHer Collective has really helped me along my journey."
The BuildHer Collective is a program that empowers women with the education, tools and support to build homes of their dreams, or develop properties for profit.
Taeler explained that BuildHer helped her "mitigate that fear around developing … [as] I really wanted that support network and that community behind me, and that's when I found BuildHer."
Taeler's achievement stands as a testament to the power of this program, helping her create a stunning home while juggling added pressures that other developers simply would not experience.
Plungie have a longstanding relationship with BuildHer, with the collective being advocates for the simplicity and ingenuity of our pools as a solution to a range of building and development problems.
For any woman thinking of building or developing a property of their own, be sure to find out more about The BuildHer Collective and kick-start your journey.
On behalf of everyone here at Plungie, hats off to Taeler for bringing her vision to life in truly awe-inspiring circumstances.